AIR Develops Portable Image Acquisition System for Vegetation Canopy to Support Quantitative Remote Sensing Applications
Oct 21, 2020
A portable image acquisition system for vegetation canopy has been developed by AIR to fill the data gap caused by canopy analyzer which fails to observe and measure features of vegetation simultaneously.
The system is capable of obtaining huge raw data from thirteen testing sites distributed nationwide to test the authenticity of vegetation products.
The canopy image analysis is an important method to study plant physiology. The vegetation canopy analyzer is very important for the light exposure detection of crop and plant colony canopy as well as the agroforestry research. However, existing vegetation canopy analyzer including the LAI-2200 type, can't observe and measure feature simultaneously, which has greatly limited relevant data research and error analysis.
AIR engineers from the National Engineering Laboratory for Satellite Remote Sensing Applications, has developed this image system as part of the Land Observation Satellite Common Application Support Platform which is supported by the National Civil Space Infrastructure Project.
This system features synchronous canopy image acquisition, canopy information extraction and real-time data sharing, and well matching the LAI-2200 vegetation canopy analyzer.
Through the front-end image sensor and fish-eye lens, this system can synchronize vegetation image information derived from the LAI-2200 vegetation canopy analyzer at less than one second. In addition, the system has a storage capacity larger than eighty thousands of vegetation images as well as remote real-time transmission capability.
The system has been arranged in thirteen sites across the country, covering the typical ecosystems of farmlands, forestry, and grasslands. The observable vegetation categories include cold and warm coniferous forest, deciduous broad-leaved forest, evergreen broad-leaved forest, monsoon rain forest, mangrove forest, deciduous broad-leaved thicket, brushwood and grassland.
This system has obtained more than 780 sets of effective original data and more than 15000 simultaneous vegetation images, providing valuable information for research and applications in various fields including climate change, ecological environment and precision agriculture.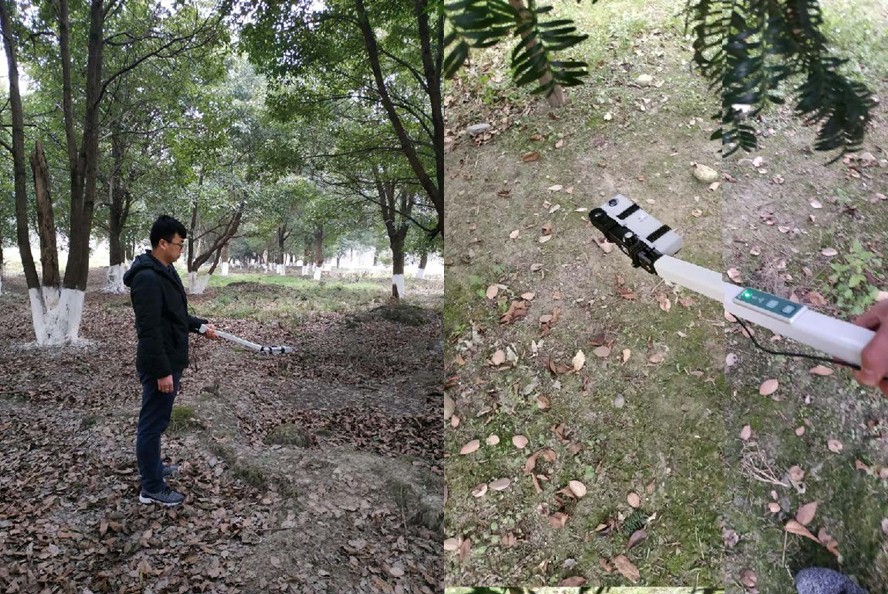 On-site testing.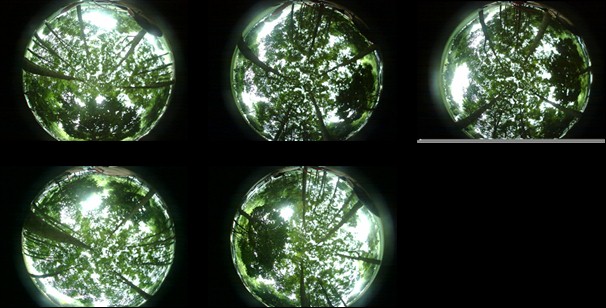 Simultaneous images captured by the system.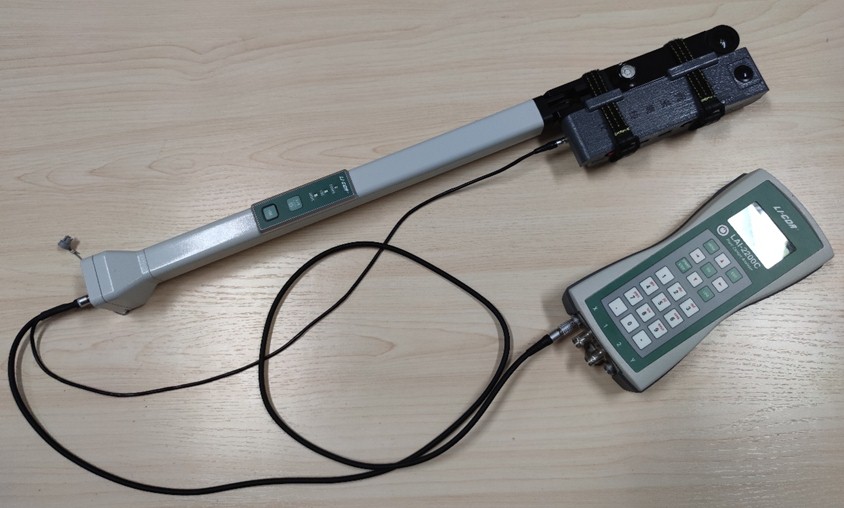 The LAI-2200 along with the portable vegetation image acquisition system.