AIR Holds Workshop to Promote Sustainable Agriculture in Zambezi River Basin
Nov 13, 2023
A workshop was held at the Aerospace Information Research Institute (AIR) under the Chinese Academy of Sciences (CAS) on October 31 to discuss the progress of the "Zambezi River Basin Land Dynamics and Driving Mechanisms" project. The event was attended by some 20 experts from CAS, the University of Zimbabwe, the University of Zambia, and the Catholic University of Mozambique.
Financially supported by National Natural Science Foundation of China (NSFC) and the United Nations Environment Programme (UNEP), the project is spearheaded by AIR, aiming to comprehend the evolving landscape and underlying forces influencing agricultural transformation in the Zambezi River Basin.
The Zambezi River Basin, the largest river basin in southern Africa, boasts abundant land and water resources with substantial potential for food production. Over recent decades, a remarkable transformation in agricultural land usage has been witnessed, influenced by factors such as climate change, population growth, land reforms, and the coexistence of state and customary land tenure. Understanding the dynamic changes in farmland and their driving mechanisms holds the promise of guiding policy-making, enhancing agricultural resilience, and facilitating the sustainable utilization of water and land resources, aligning with the Zero Hunger goal.
At the workshop, core members of the project team, associate professor ZENG Hongwei from AIR provided insights into the project's progress. They highlighted advances in monitoring agricultural land dynamics, land usage patterns, water resource utilization, and regional agricultural sustainability. Associate professor ZHANG Miao from AIR detailed the methodology and outcomes of long-term farmland mapping in the Zambezi River Basin using Earth Observation Big Data.
Experts such as Prof. Walter Musakawa from South Africa, Prof. Emmanuel Mashonjowa from the University of Zimbabwe, Prof. Elijha Phiri from the University of Zambia, and Dr. Jose Bofana from the Catholic University of Mozambique, along with project participants from CAS, presented their research findings, covering extreme disasters resulting from climate change, shifts in agricultural inputs and productivity due to land reforms, land allocation and circulation under dual management systems, and the impact of farmland changes on livelihoods.
AIR scientists expressed their hopes that the Global Agricultural Remote Sensing Monitoring Cloud Platform (CropWatch), developed by AIR, could further support regional crop type mapping and yield forecasting based on jointly developed high-resolution farmland data products.
Led by Prof. WU Bingfang from AIR and combined with the amalgamation of efforts of all involved parties including the United Nations Environment Programme-International Ecosystem Management Partnership (UNEP-IEMP), the project made significant strides in scientific output, talent cultivation, and practical implementation. Nearly 10 papers have been published in high-impact journals such as "Remote Sensing of Environment." Notably, high-resolution farmland data products resulting from the project have been delivered for use to the Ministries of Agriculture in Zimbabwe, Zambia, and Mozambique. The project's outcomes were selected by the United Nations Office for South-South Cooperation as an outstanding case in achieving SDG2 (Sustainable Development Goal 2), while Mozambique's agricultural remote sensing monitoring system was recognized by the International Food Policy Research Institute (IFPRI) as a leading global rural solution portal.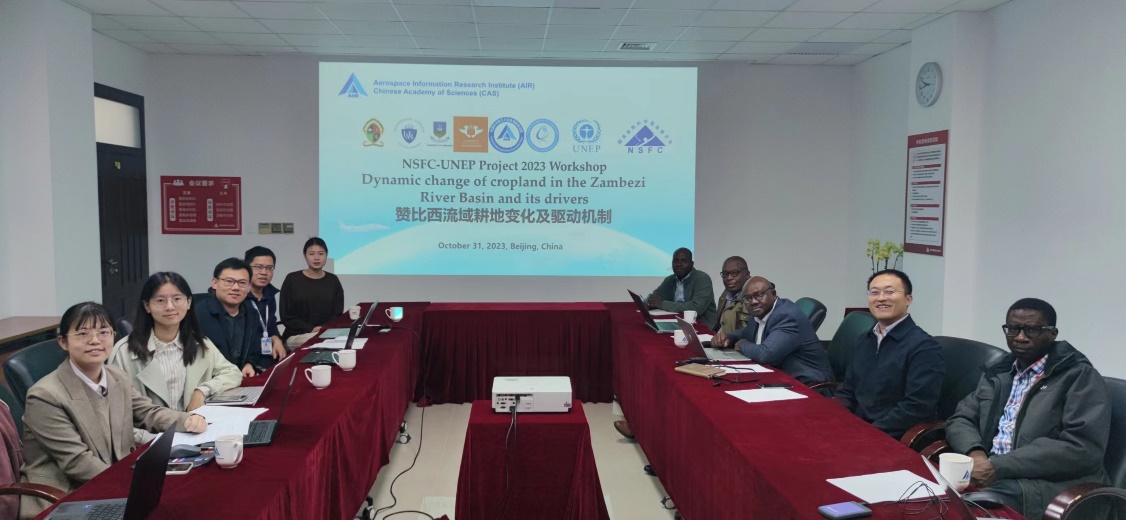 A scene of the workshop.