CBAS Active in Series of Activities During the UN World Data Forum 2023
May 08, 2023
The UN World Data Forum 2023, organized by the United Nations and jointly hosted by the National Bureau of Statistics of China and the People's Government of Zhejiang Province, was held in Hangzhou, Zhejiang Province from April 24 to 27 under the theme "Towards Data that Empowers our World." The Forum aims to spur data innovation, nurture partnerships, mobilize high-level political and financial support for data, and build a pathway to better data for sustainable development. Attending the Forum were representatives from UN agencies, national statistics and data management authorities, academia, governments and the private sector.
Prof. Guo Huadong, Director General of the International Research Center of Big Data for Sustainable Development Goals (CBAS), was invited to the Host Country Plenary Session of the Forum organized by the National Bureau of Statistics of China on April 25 and gave a presentation titled "Harnessing Big Earth Data to Achieve the SDGs". He was also appointed to China's National Expert Advisory Committee on Statistics in an appointment ceremony afterwards.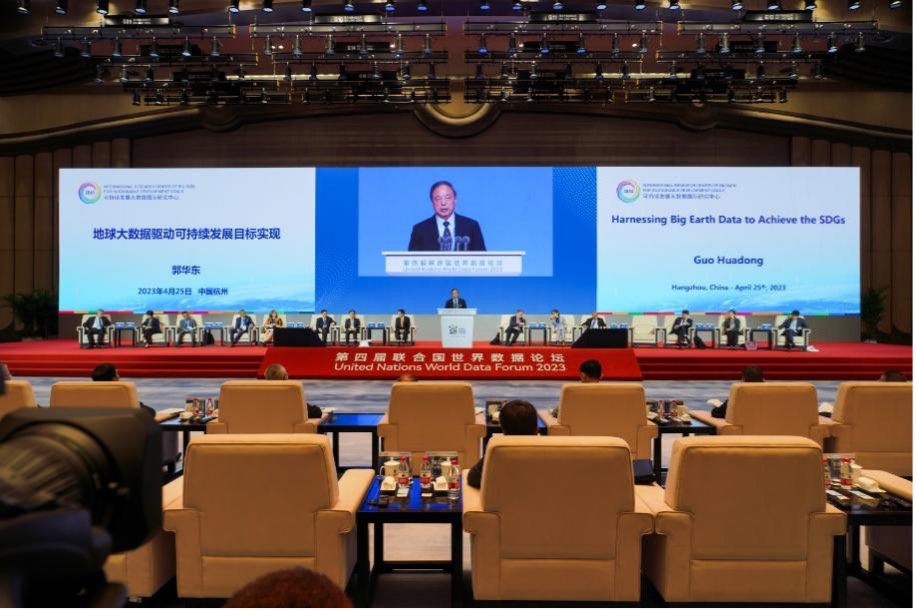 Prof. Guo Huadong attends the Host Country Plenary Session and gives Invited Speech.
A special exhibition also opened in the Forum's venue where CBAS was invited to showcase its work to the world in the "Global Horizon" section together with 13 other international organizations such as the FAO, UNDP, and Gallup.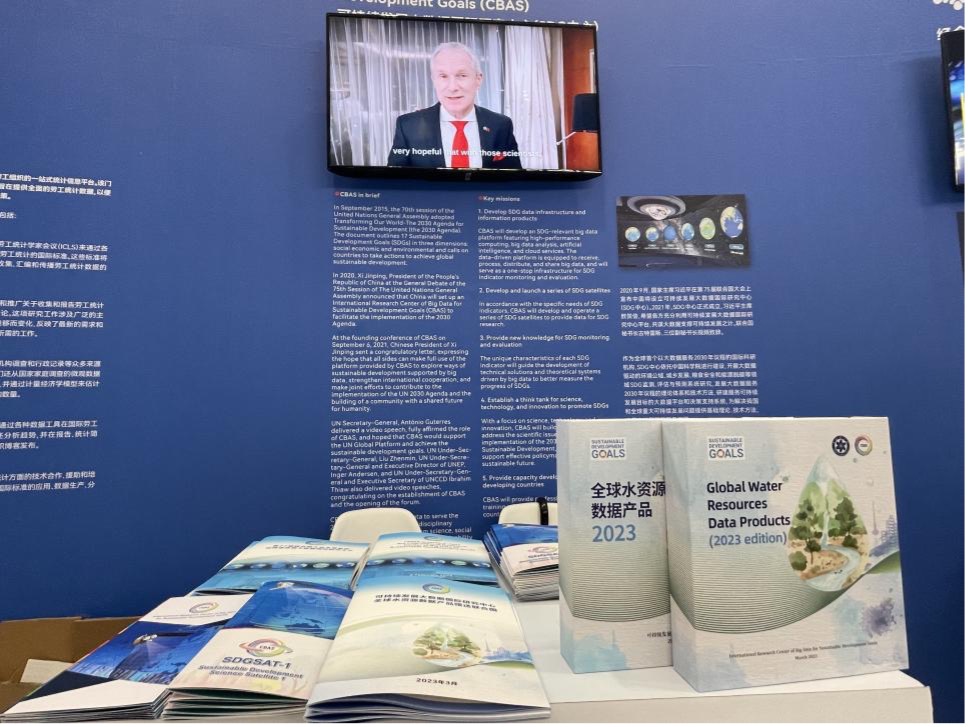 CBAS exhibition booth.
In the afternoon of April 25, CBAS convened a parallel session under the theme "Innovative Ways for Increasing Timeliness and Coverage of SDG Indicators (TA1.16)." The session was jointly organized by the United Nations Trade and Development Conference (UNCTAD), the Environmental System Research Institute (Esri), the PVBLIC Foundation, and the CAST-UN Consultative Committee on Disaster Risk Reduction (CCDRR) and welcomed over 400 audiences joining in-person or through online streaming.
The session was kicked off by welcoming remarks from Prof. Guo Huadong and GEO Secretariat Director Yana Gevorgyan, followed by a panel discussion composed of experts from the Integrated Research on Disaster Risk (IRDR), Esri; UNCTAD; Sichuan University; the SDG Data Alliance; and CBAS. The panelists engaged in open and candid discussion following two guiding themes: (1) nurturing partnerships that leave no one behind and (2) addressing data gaps with innovative solutions, both of which received enthusiastic responses from the audiences.
Panel discussion.