2022 AOGEO Training Workshop Held Online
Aug 04, 2022
The 2022 international training workshop on Earth observations for sustainable development in developing countries (2022 AOGEO training workshop on EO capacity) was held online (synchronously webcast in Beijing of China and Kathmandu of Nepal) during 26-28 July 2022.
The event was organized by the National Remote Sensing Center of China (NRSCC) under Ministry of Science and Technology (MOST) of the People's Republic of China, the International Centre for Integrated Mountain Development (ICIMOD), the Aerospace Information Research Institute under Chinese Academy of Sciences (AIRCAS), the Asia-Oceania Group on Earth Observations (AOGEO), Regional Centre for Capacity Development (RCCD), and the Working Group on Capacity Building & Data Democracy under Committee on Earth Observation Satellites (CEOS WGCapD).
Themed as "Earth observations for carbon and ecology monitoring in the Himalayan region", the workshop focused on the achievement of the Sustainable Development Goals (SDGs) in the region and contributes to SDG 13: Climate action (carbon monitoring) and SDG 15: Life on land (ecological monitoring) in particular.
The topics of the 2022 training workshop covered five sessions, including Methodology of remote sensing technology, Carbon Monitoring in the Atmosphere, Carbon Monitoring in the Forest, Water Ecology Monitoring & Flood Forecast System, and Hydrological Cycle Monitoring.
Presided over by Prof. ZHOU Xiang from AIRCAS, Ms. ZHAO Jing on behalf of NRSCC, Prof. ZHANG Bing on behalf of AIRCAS, and Dr. Rajesh Bahadur Thapa on behalf ICIMOD delivered welcome speeches. Ms. Madeeha Bajwa from GEO secretariat, Prof. Yongseung Kim (Korea, Republic of) and Prof. GU Xingfa from AOGEO Coordination Board gave the opening remarks.
Lecturers from Hokkaido University, The University of Tokyo, Institute of Engineering under Tribhuvan University, Indian Institute of Remote Sensing (IIRS), Kunming Institute of Botany under Chinese Academy of Science (KIB, CAS), Northeast Institute of Geography and Agroecology under Chinese Academy of Sciences (NEIGAE, CAS), National Space Science Center under Chinese Academy of Science (NSSC, CAS), Chinese Academy of Forestry (CAF), Institute of Atmospheric Physics under Chinese Academy of Sciences (IAP, CAS), as well as more than 260 trainees attended the opening ceremony online.
More than 600 trainees from about 40 countries registered the workshop, including Pakistan, Nepal, India, Bangladesh, Afghanistan, Nigeria, Algeria, Benin, Egypt, Ethiopia, Madagascar, Rwanda, Sierra Leone, South Africa, Sudan, Tunisia, Ghana, etc.
At the discussion seminar, young scientists expressed that they could learn professional knowledge, advanced tools and the frontier of Earth observations to get valuable information and practical skills in a short time from their busy schedule. They expected to participate in future training course series time and time again. Mr. LIU Zhichun from NRSCC, Ernest Acheampong from GEO Secretariat, Birendra Bajracharya from ICIMOD, and ZHOU Xiang from AIRCAS gave the remarks at the closing ceremony.
The 2022 training workshop was supported by many international organizations and communities. It strengthened the cooperation in the field of Earth observations among communities in Asia-Oceania region, and also established friendly linkages with global communities including GEO and CEOS.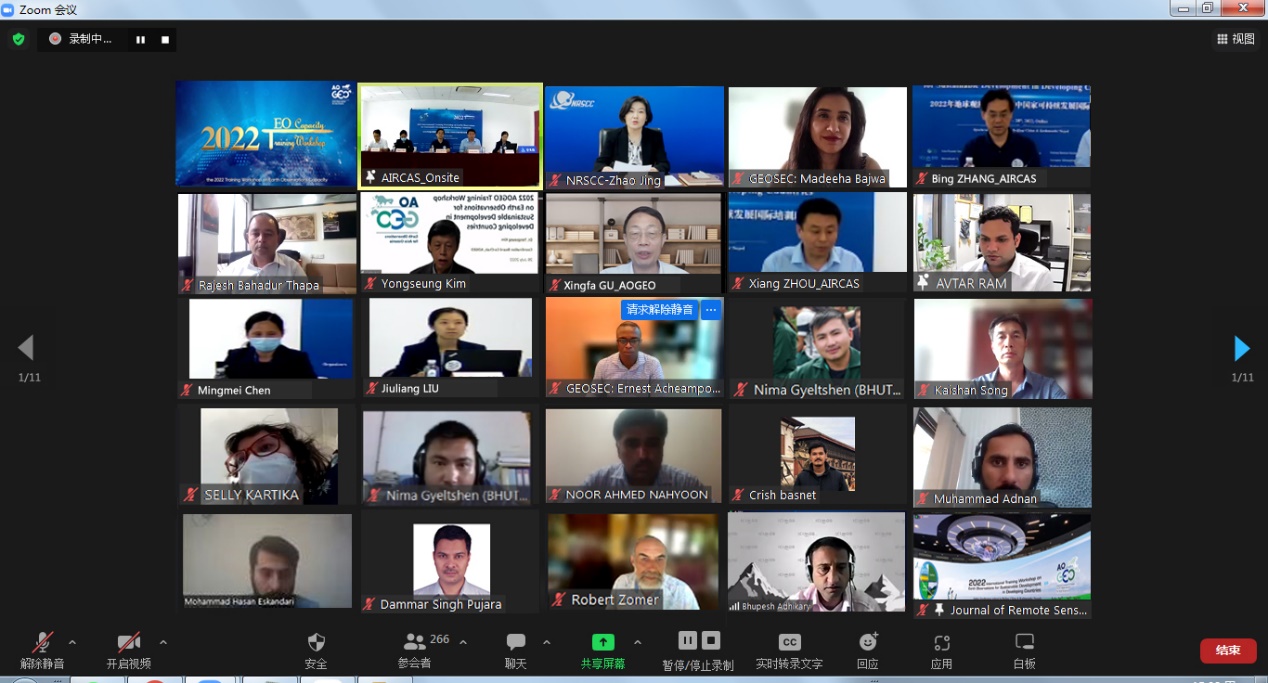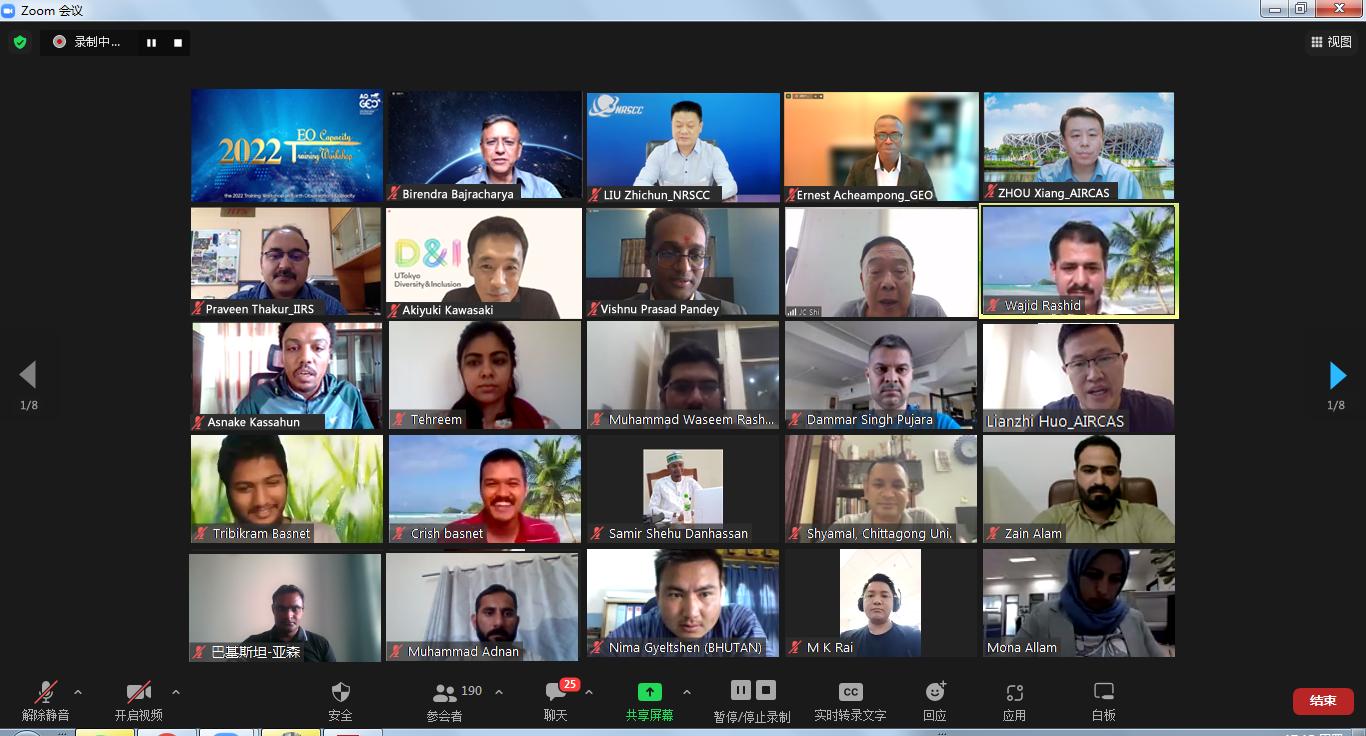 Screen snapshots of 2022 Training Workshop.