Press Conference of 13th China Satellite Navigation Conference Held in Beijing
Apr 16, 2022
On the morning of April 14, a press conference of the 13th China Satellite Navigation Conference (CSNC) was held in Beijing, where the organizing committee gave an overview of the 13th CSNC, introduced the local highlights of CSNC in Beijing, and answered questions on hot topics of media concern.
Themed "Digital Economy, Intelligent Navigation", the 13th CSNC will be held from May 25 to 27 at Beijing Guoce International Convention & Exhibition Center. The event is co-organized by the Academic Exchange Center of China Satellite Navigation Office, Beijing Municipal Bureau of Economy and Information Technology and Shunyi District People's Government.
According to the spokesman, this year's CSNC will set up five sections: Summit Forums, Academic Exchanges, China Satellite Navigation Expo, High-end Forums and Popular Science Activities, companied with a series of highlight activities showcasing the achievements of BDS applications for various industries.
As Deputy Director CHEN Gucang introduced at the press conference, the global navigation satellite system BDS-3 had been operating stably since its official completion and started operation on July 31, 2020, with a steady improvement in the service performance, a measured positioning accuracy of better than 4.4 meters worldwide and a better performance in the Asia-Pacific region, which provided high-quality and reliable positioning, navigation and timing services for users worldwide.
Chen also said that the BDS-3 has served as an important spatio-temporal infrastructure for economic and social development and an example showcasing how China took practical actions to promote the building of a community with a shared future.
As one of the most important international satellite navigation conferences, CSNC provides a comprehensive exchange platform for China to showcase the achievements of construction and development of BDS, and to promote navigation technology innovation and the development of the BeiDou industry.
CSNC has been successfully held for 12 times since 2010 and has attracted 36,000 attendees and collected 5,160 papers. There are a total of 1,743 invited presentations being delivered at CSNC, and 1,502 exhibiting companies that have participated in the Expo.
Deputy Director WANG Lei remarked that this year's CSNC in Beijing will promote the exchanges and mutual understanding related to "BDS-empowered Digital Economy" and plan high-level local forums. In addition, this year's CSNC will also release the pilot projects of "BeiDou+" fusion innovation applications, build two application scenes of BeiDou + intelligent connected vehicle-road coordination and BeiDou + unmanned delivery, with the goal to build a Beijing into model city for BeiDou application demonstration.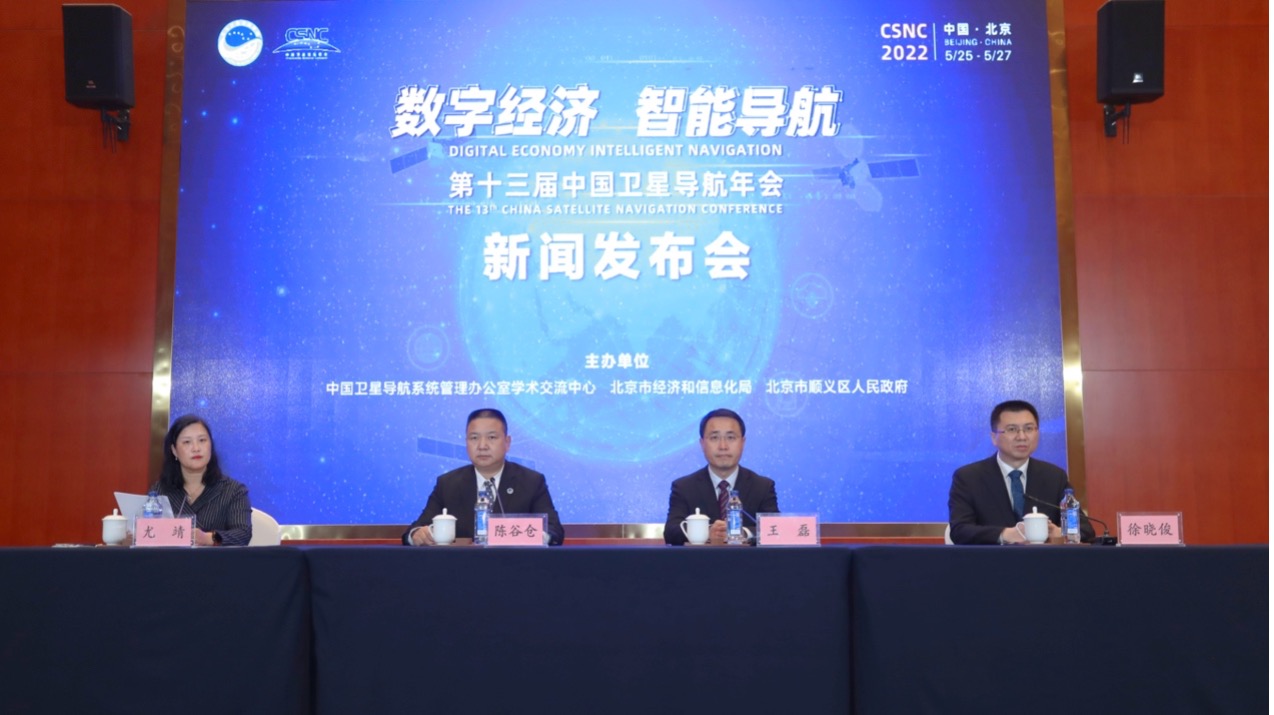 A scene of the press conference.