2021 AOGEO-TG7 Workshop on Environmental Monitoring and Protection Held Online
Nov 10, 2021
AOGEO (Asia-Oceania, Group on Earth Observations GEO) TG7 (Task Group7) on Environmental Monitoring and Protection (EMP) Workshop was held online on November 5, 2021, with objectives to exchange views on technology advances and research results in the area of environmental monitoring and protection against the backdrop of COVID-19, and the next-phase plan of TG7 in support of GEO Engagement Priorities.
The event was presided over by Prof. LIU Qinhuo from the State Key Laboratory of Remote Sensing Science with the Aerospace Information Research Institute (AIR), Chinese Academy of Science (CAS) and Alfredo Huete from the University of Technology Sydney.
Highlight reports focused on international cooperation in support of GEO global environment protection and the United Nations Sustainable Development Goals (SDGs), Environmental Monitoring with Next-generation Geostationary Instruments to Address Sustainability and Human Well-being, Introduction of Australian AquaWatch, Impacts of Plant Community Changes on Soil Carbon Contents in Northeastern Illinois ,Influence of Silviculture Practices on Carbon Storage and Soil efflux and Water Cycling in the Forest Ecosystems, Remote sensing digital image classification-beyond pixel level,etc. Nearly 300 scholars from the Member States of TG7 participated the online discussion.
Reports included variations of satellite-based PM2.5 concentration during the COVID-19 outbreak throughout China; Carbon disturbance in global terrestrial ecosystem-observation and assessment; integrated remote sensing monitoring of global ecosystem in recent decade; ecological and environmental status of global typical lakes; earth observation techniques for sustainable oil palm plantation reports.
Environmental Monitoring and Protection (EMP) Task Group 7 (TG7) of AOGEO was established in 2016, and now are moving to address challenges in environmental AOGEO monitoring and protection in AO region. This task is set up to improve the regional cooperation to monitor the terrestrial ecosystem status and atmosphere environmental qualities, and to provide decision-making support knowledge for human being health and environmental protection.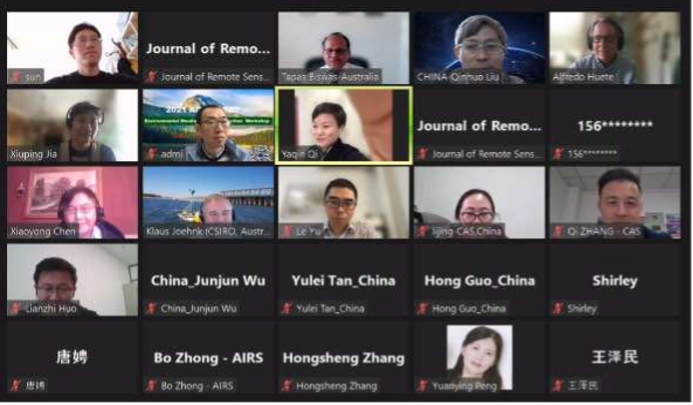 A snapshot of the virtual workshop.