AOGEO Launches 2021 International Training Workshop on Earth Observation for Sustainable Development in Developing Countries
Jul 16, 2021
The opening ceremony of 2021 International Training Workshop on Earth Observation for Sustainable Development in Developing Countries was held synchronously in Beijing of China (on-site) and Kathmandu of Nepal (synchronous online) on July 12, which was co-organized by the Aerospace Information Research Institute (AIR), under the Chinese Academy of Sciences (CAS) and the International Center for Integrated Mountain Development (ICIMOD).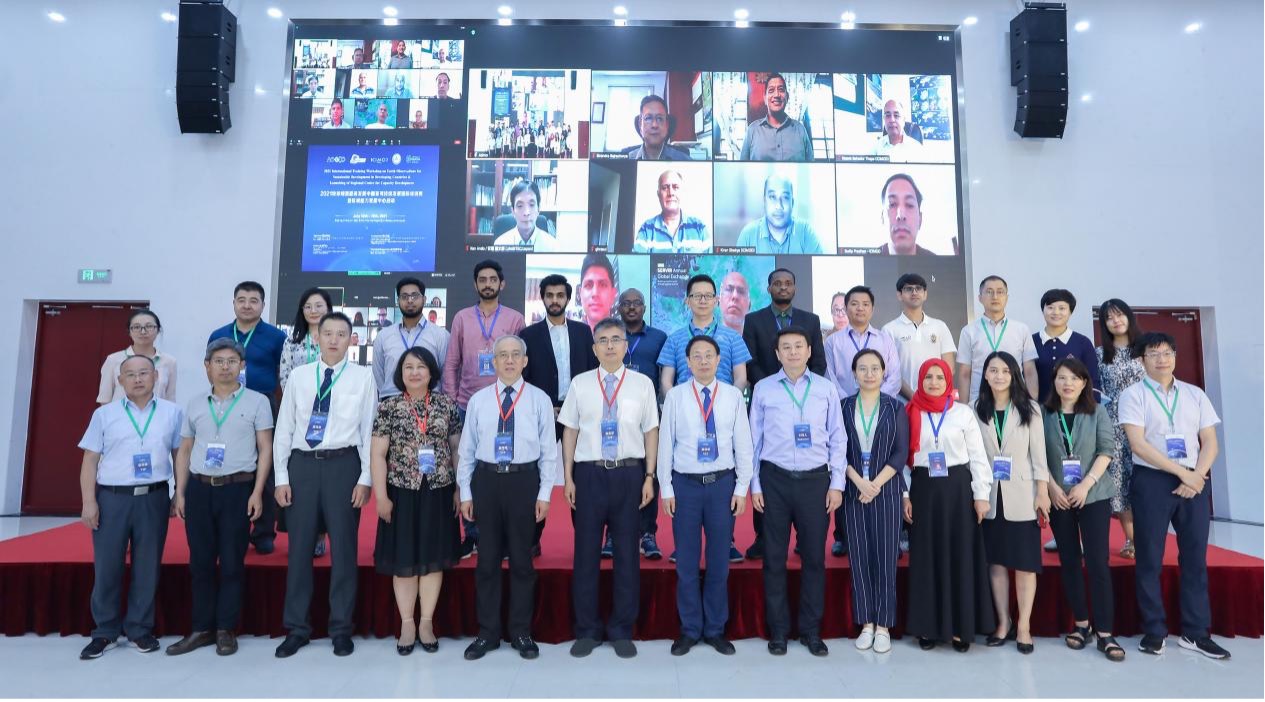 A group photo from the onsite Beijing.
The ceremony was moderated over by Prof. ZHOU Xiang from AIR and Mr. Birendra Bajracharya from ICIMOD. Dr. WANG Qi'an, Director-General of the National Remote Sensing Center of China (NRSCC) under the Ministry of Science and Technology (MOST), Dr. Pema Gyamtsho, Director-General of ICIMOD, Prof. WU Yirong, Director-General of AIR, Ms. Yana Gevorgyan, Director of GEO Secretariat, Dr. ANDO Kentaro, AOGEO Co-chair of Coordination Board, Ms. YU Qi, Secretary-General of Asia-Pacific Space Cooperation Organization (APSCO), Dr. GU Xingfa, AOGEO Coordination Board Co-Chair and Dr. CHEN Zhongxin, senior specialist from the Food and Agriculture Organization (FAO) were invited to deliver speeches.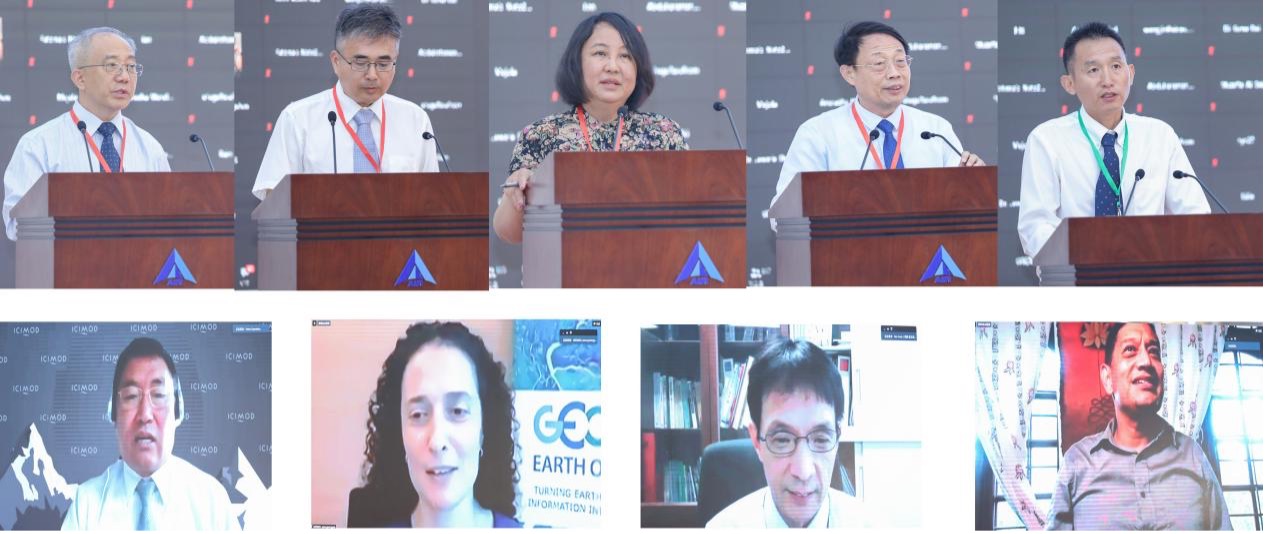 Moderators of the opening ceremony.
Trainee representatives from Nepal, Egypt, Nigeria, Pakistan, and Ethiopia, attended the opening ceremony on-site of Beijing, China, and more than 240 trainees from 24 countries registered and attended the online training course.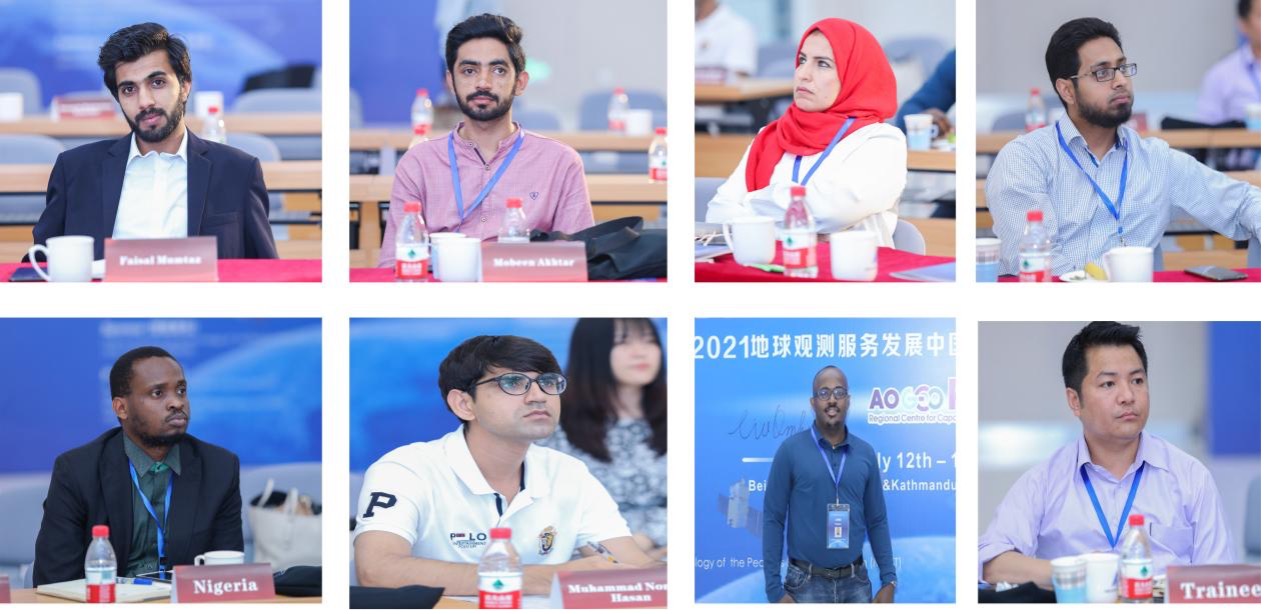 Trainee representatives.
The series of AOGEO Training Workshop has been successfully held in Nepal, Laos, Indonesia, Sri Lanka, and China in past years with the support of the Asia-Oceania Group on Earth Observation (AOGEO). 2021 AOGEO Training Workshop lasted from July 12 to July 16 in the form of "online + onsite". The training focused on Earth Observation for Sustainable Development in Developing Countries and main content included the theory and applications of earth observation technology in climate change, agriculture and food safety, ecological environment, and other aspects. The courses were conducted in the modalities of lectures and hand on practices. The trainees were young scholars, management officials and other professionals from developing countries in the field of Earth Observation.
During the opening ceremony, the Regional Capacity Development Center (RCCD) was launched in Beijing, China, and Kathmandu, Nepal, marking the start of Regional Centre for Capacity Development (RCCD) under the AOGEO framework. The RCCD will focus on Earth observation capacity development in Asia-Oceania regions to serve the research and analysis on climate change, carbon neutralization, agriculture and food security, disaster risk reduction, ecosystems and biodiversity, to support the implementation of regional Sustainable Development Goals (SDGs). The launching of RCCD will further foster the regional and international cooperation to promote the earth observation technology and applications for sustainable development in the Asia-Oceania region.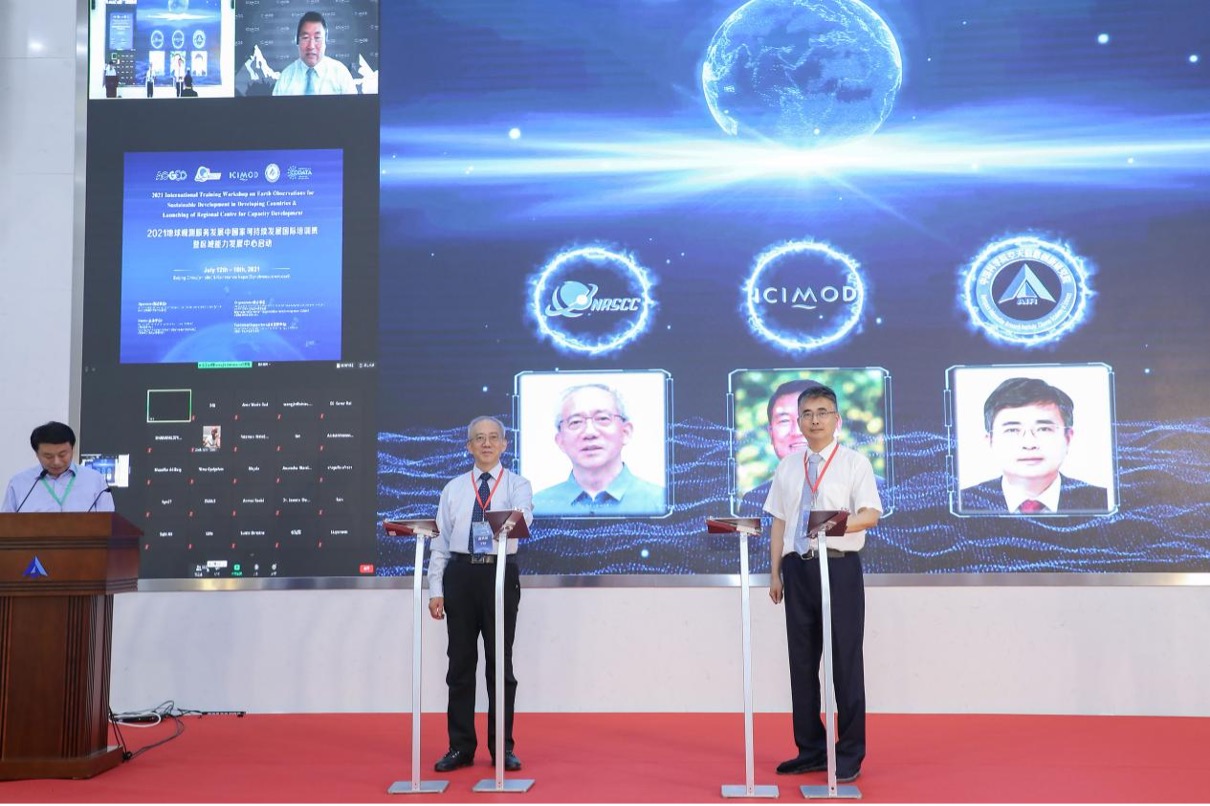 The Regional Capacity Development Center (RCCD) is launched in Beijing during the opening ceremony.