AIR Scientist Participates GEO Symposium
Jul 05, 2021
The GEO Virtual Symposium 2021 was held on June 21-24 with a goal to share successful practices and identify ways to accelerate the delivery of products and solutions to address environmental and societal challenges.
Prof. LIU Qinhuo from the Aerospace Information Research Institute (AIR), Chinese Academy of Sciences (CAS) presided over a parallel session on EO solutions for the GEO engagement priorities including sustainable development and urban resilience, where he delivered a speech on sustainable development status evaluation for global ecosystems.
Ecosystem degradation and environmental pollution are challenging due to the rapid urbanization and economic development. Global Ecosystem and Environment Observation Analysis Research Cooperation (GEOARC) has been set up to improve the global cooperation to monitor the terrestrial ecosystem status and the environmental qualities, and to provide decision-making support knowledge for ecological environment protection. As an example of EO solutions for the GEO Engagement Priorities, such as Sustainable Development, this parallel session presented the newest achievements and progresses of GEOARC, strengthening inclusive partnerships across the GEO Work Programme.
Other subjects are discussed at the session, including fine temporal resolution observations of highly dynamic ecosystems, the change of Eurasia grassland ecosystem during the past decades, LULC change modeling and future landscape risk analysis in earthquake prone city, Global lakes dynamic monitoring and assessment, and sustainable development status evaluation for global ecosystems.
Nearly a thousand speakers and audiences from different regions of the world participate in the symposium to discuss support for GEO Global Environment Outlook and the United Nations Sustainable Development Goals (SDGs).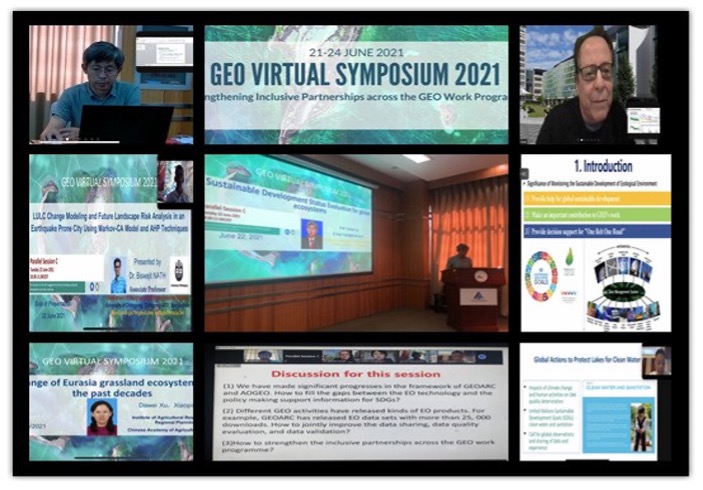 A snapshot of the session.
Symposium review address:
https://earthobservations.org/symposium2021.php