Virtual Tour of Sceneries across China from Space
May 19, 2021
China Tourism Day, May 19 every year, started from 2011 as a themed national event to boost the tourism industry. The date was designated to honor XU Xiake, a 17th-century traveler and writer.
On the 11th year of China Tourism Day, scientists from the International Centre on Space Technologies for Natural and Cultural Heritage (HIST) under the auspices of UNESCO, and the Aerospace Information Research Institute (AIR) present images of some well-known sceneries of China captured by GF satellites. Let's take a virtual tour of China guided by the unique "eyes" from space.
First bay of the Yangtze River
First bay of the Yangtze River is located in Shangri-la county, southwest China's Yunnan province. It flows down the Qinghai-Tibet Plateau, and then enters Yunnan where it merges with the Lancang River and Nujiang River. With the Hengduan Mountains in the valley, they form unique river-valley landforms of the three parallel rivers.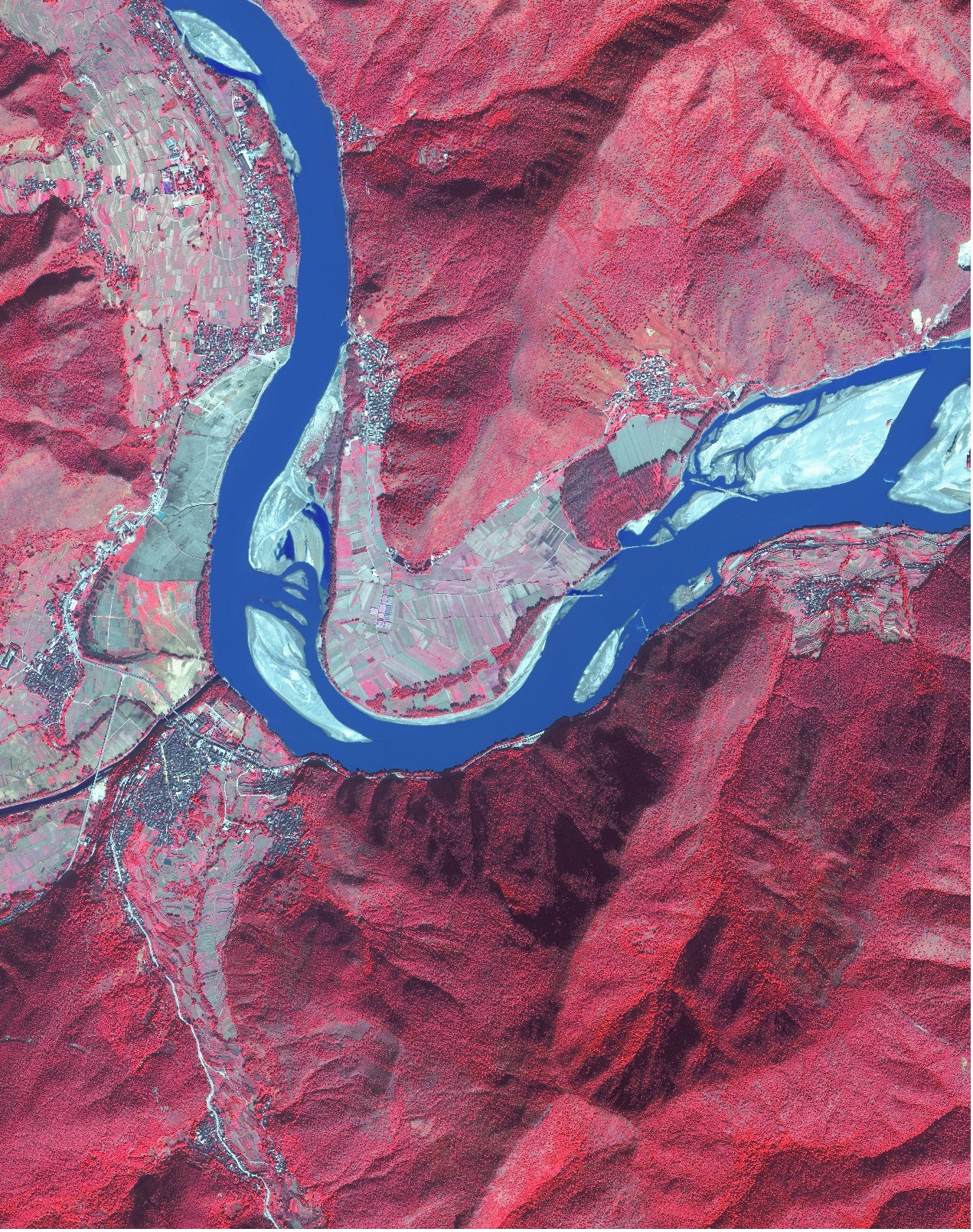 A remote sensing image shows the first bay of the Yangtze River (GF2, RGB-432; date: November 19, 2020).
Jinshanling Great Wall, Beijing
Jinshanling's Great Wall is in a mountainous area 130 km northeast of Beijing. This section of wall connects the Simatai Great Wall section in the east, and Gubeikou Section in the west.
The Great Wall at Jinshanling has a complete defensive system including barrier walls, battlement walls, watchtowers, gun emplacements, shooting holes, horse blocking walls, and branch cities.
A remote sensing image of Jinshanling's Great Wall (GF2, RGB-321; date: April 28, 2021).
Fujian Tulou
The Fujian tulou are Chinese rural dwellings unique to the Hakka in the mountainous areas in southeastern Fujian, China. They were mostly built between the 12th and the 20th centuries.
A tulou is usually a large, enclosed and fortified earth building, most commonly rectangular or circular in configuration, with very thick load-bearing rammed earth walls between three and five stories high and housing up to 800 people. Smaller interior buildings are often enclosed by these huge peripheral walls which can contain halls, storehouses, wells and living areas, the whole structure resembling a small fortified city.
A total of 46 Fujian tulou sites were inscribed in 2008 by UNESCO as World Heritage Site, as "exceptional examples of a building tradition and function exemplifying a particular type of communal living and defensive organization in a harmonious relationship with their environment".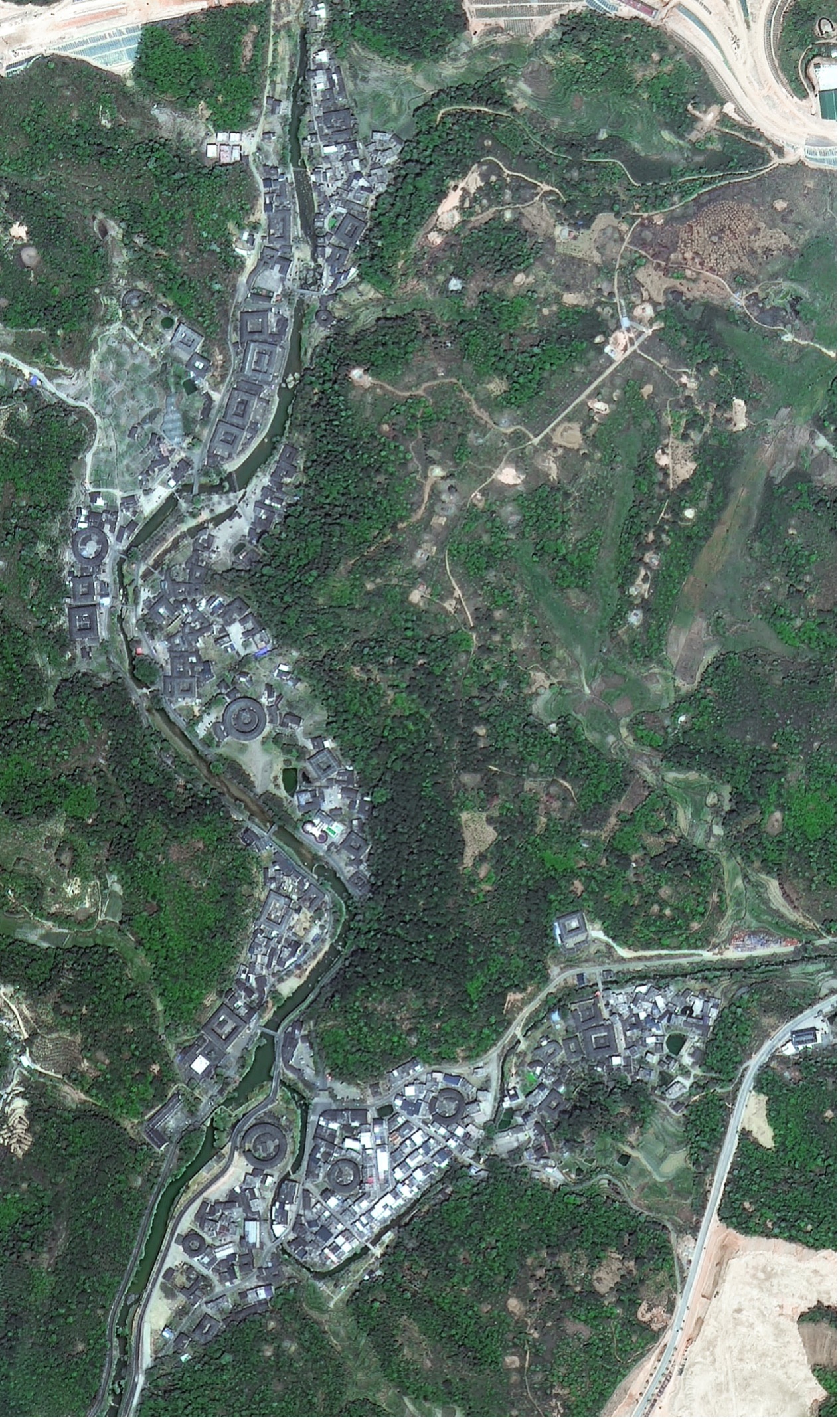 A remote sensing image captured on April 12, 2021 shows the Hekeng Tulou Cluster (GF2, RGB-321).
Tianluokeng tulou cluster is one of the better known groups of Fujian tulou. It is located in the village of Tianluokeng in the town of Fujian, Nanjing County, southern Fujian province. The cluster consists of a square earth building at the center of a quincunx, surrounded by four round earth buildings (or more exactly, three round earth buildings and one oval shape earth building).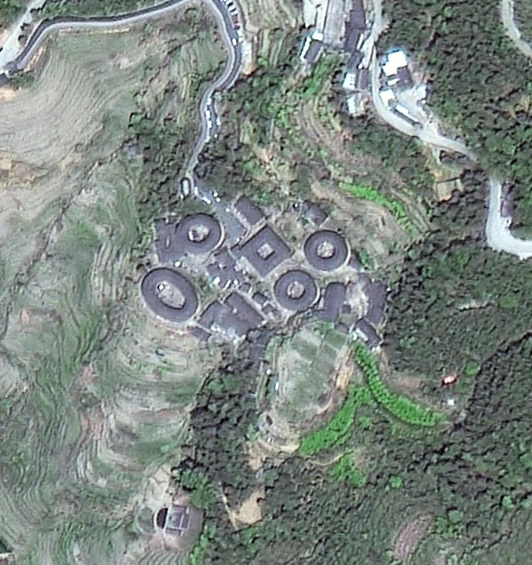 A remote sensing image captured on April 12, 2021 shows the Tianluokeng tulou cluster (GF2, RGB-342).
Terraced fields in Yuanyang County
They were created by the local Hani, an ethnic group that mostly inhabits the area across the Ailao Mountains. The terraced fields in Yuanyang County of Yunnan Province made it onto the UNESCO World Heritage List in 2013.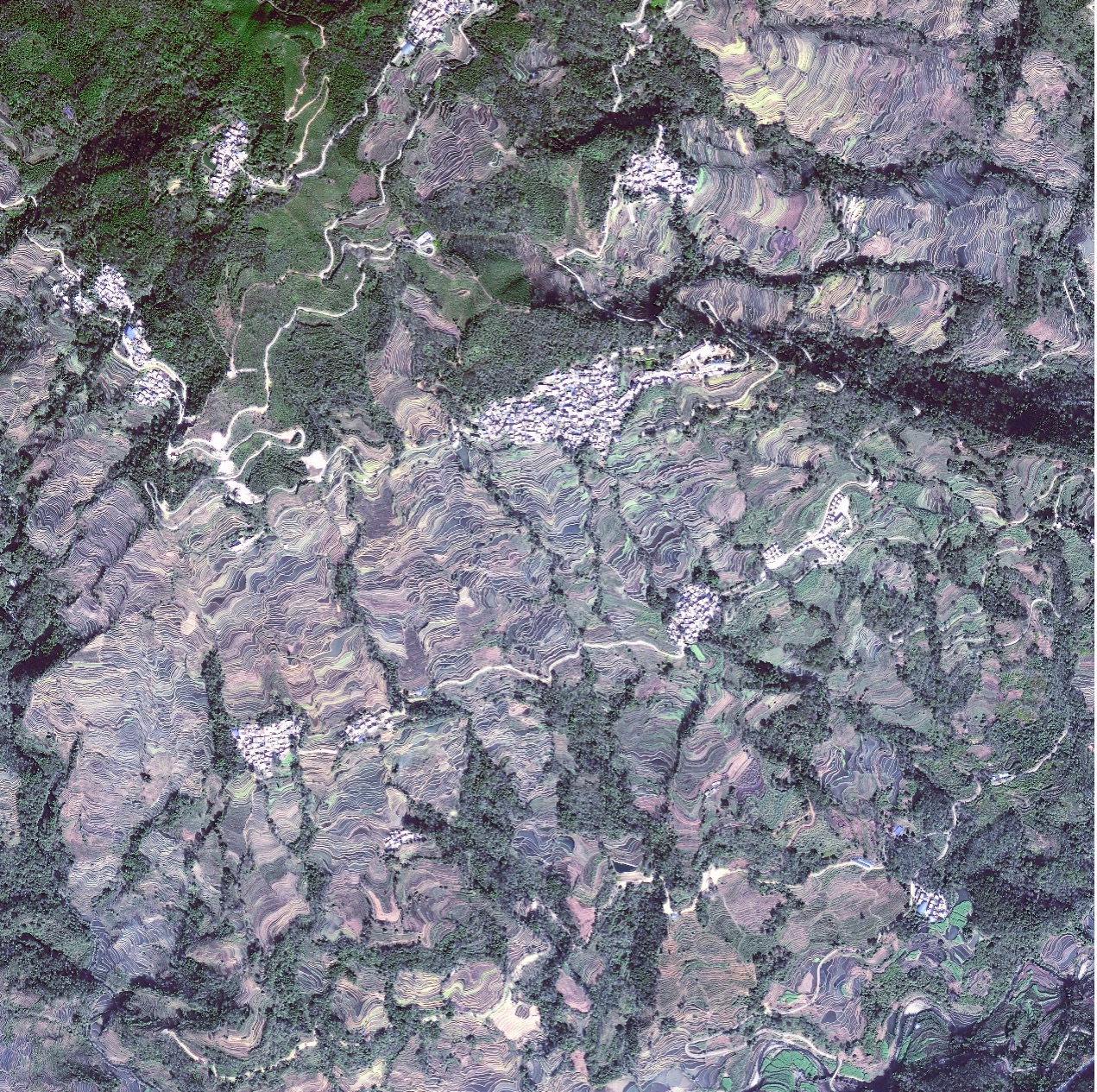 A satellite image taken on December13, 2020 shows terraced fields in Yuanyang County, southwest China's Yunnan Province (GF2, RGB-321).
Qiandao Lake
Qiandao Lake is a human-made, freshwater lake located in Chun'an County, east China's Zhejiang Province, which was formed after the completion of the Xin'an River hydroelectric station in 1959.
1,078 large islands dot the lake and a few thousand smaller ones are scattered across it. Over 90% of the area is forested. The islands in the lake include Bird Island, Snake Island, Monkey Island, and Lock Island. The lake covers an area of 573 km2 and has a storage capacity of 17.8 km3. The islands in the lake cover about 86 km2.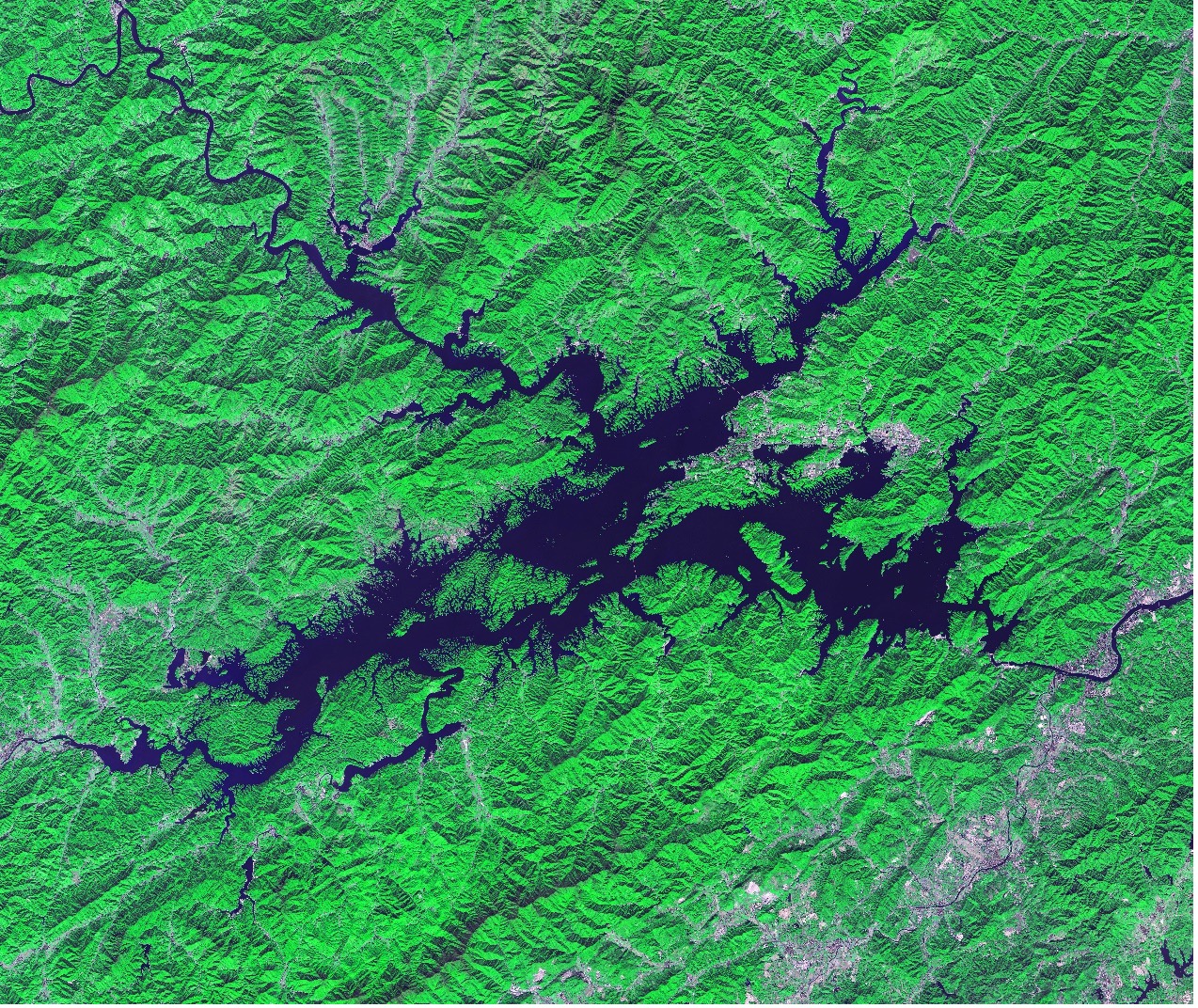 A satellite view of the Qiandao Lake taken on November 4, 2020 (GF6, RGB-342).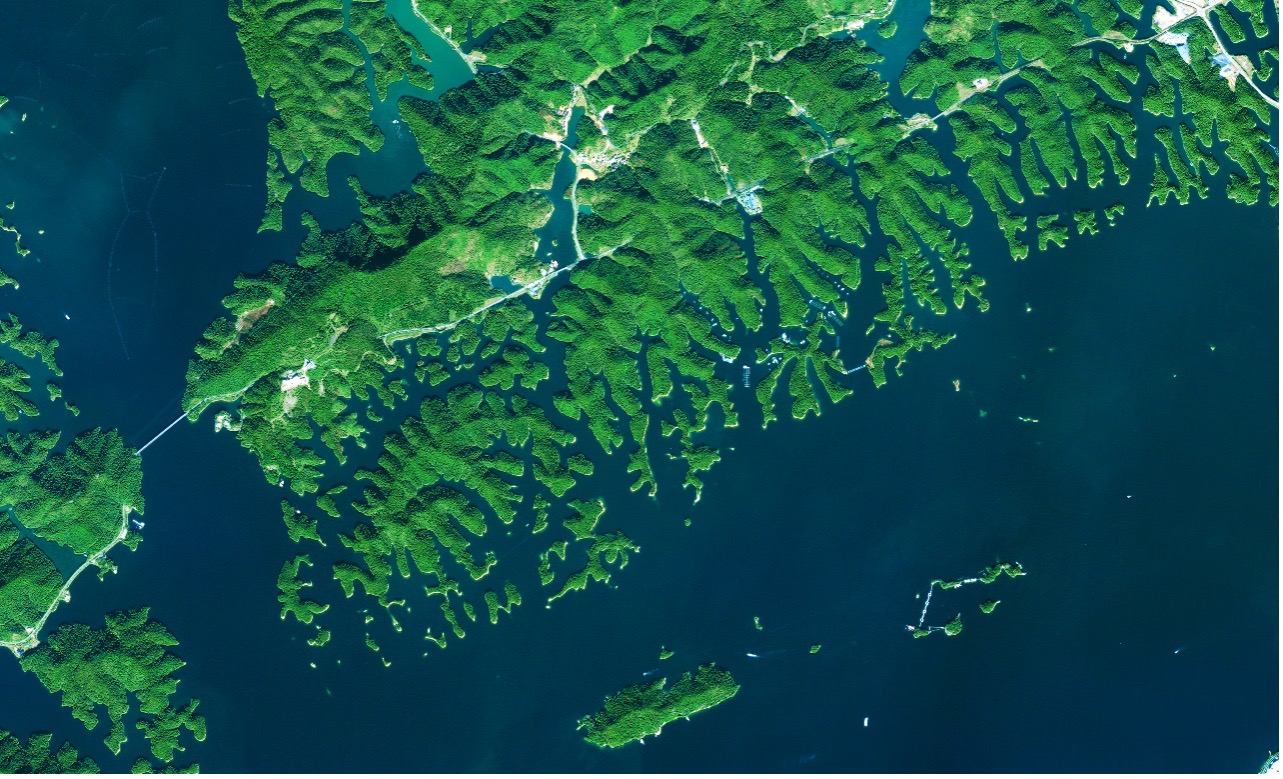 A satellite image captured on November 4, 2020 shows the northwest part of the Qiandao Lake (GF6, RGB-321).